Experience a little slice of the Past!
One of the most prized food items to come out of Spain is ibérico Ham (or, jamón, as we call it). Renowned globally for its' smooth, melting texture and rich taste, Jamon is special because it must come from the Black Iberican breed pigs- even if they've been cross-bred, they have to be at least 50% Black Iberican Pig heritage. It's truly a lineage to live up to!

These special pigs are highly prized in Spain and therefore looked after very well by the farmers that breed them; they grow up in free range conditions around acorn forests, which they're free to snuffle around in; in fact, one of the most important factors in giving Iberican pork its' delicious flavour is the diet of fresh acorns the pigs are fed on.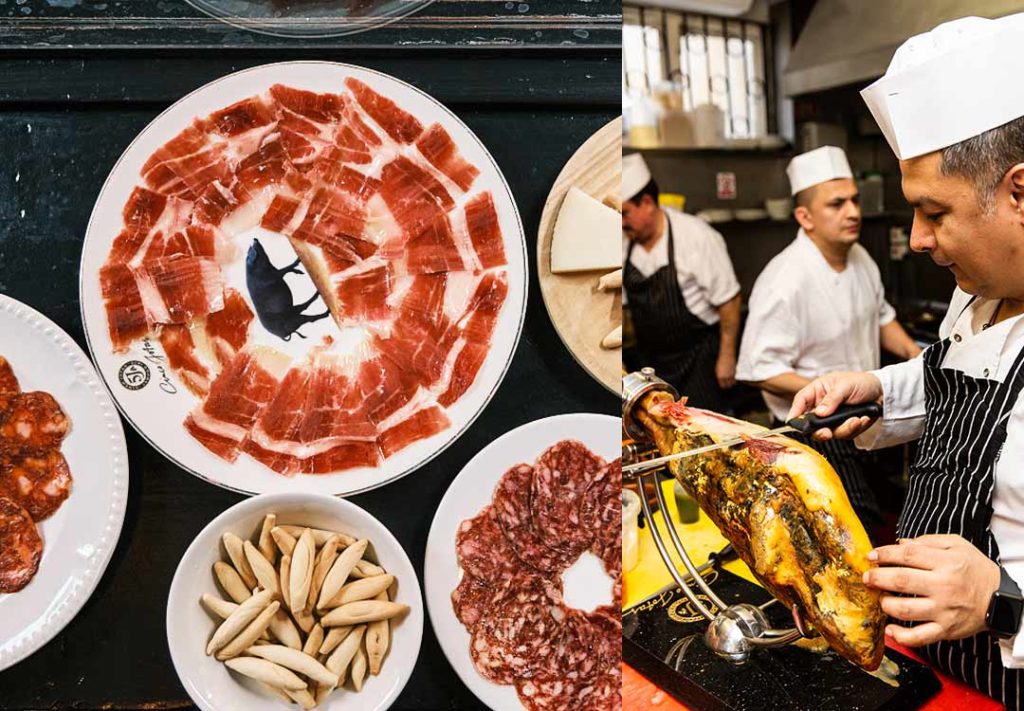 Jamón ibérico has been a delicacy for many years, with historians being able to date the first mention of the pigs back in 77AD; Pliny the Elder was so taken with the exquisite flavours that he wro
"There's no animal that affords a greater variety to the plate, all the others have their own peculiar flavour, but the flesh of these hogs has nearly fifty different flavours."
The Romans knew a thing or two about food; and so when they ruled over Spain, exported a huge amount of cured Spanish ham back to Rome for the nobility to enjoy at home. When you eat jamón ibérico, you are truly experiencing a little slice of the past!
The popularity of Jamon has even seen the pork- and the pigs- travel across the ocean to America. When Christopher Columbus first travelled to the Americas, he took Jamon for the ocean journey, knowing it would last well and be an excellent source of protein and energy. There's countless wills and testaments spanning hundreds of years from Spanish settlers in the Americas who list a team of pigs as some of their most prized possessions.
Fast forward a few hundred years to the present day and jamón ibérico is still one of the most highly regarded culinary experiences out there. Here at El Pirata we have always prided ourselves on authenticity and quality, which is why our jamón ibérico is of the very highest quality; cut from a Jamon leg to order to ensure freshness, the meat is wafer thin, melt-in-the-mouth and just the right balance of salty and rich. Come and try our jamón ibérico platter (or order from the deli to enjoy at home) for the perfect way to while away an afternoon: enjoy with a good Rioja and- of course- plenty of time to sit back and relax.